I am in the emotion and transportation business. Every still photograph I make and video I shoot should allow you to feel the warmth of the sunrise, hear the waves and the shore birds or the explosion of fireworks over Banks channel…or hear nothing but the clouds move. I want you to feel what I felt when I stood there. I'm not interested in simply chronicling anything. I aim to transport you to a different place.
Creativity has always been in my blood. It was integral to my 20 year career as a marketing executive for a Fortune 500 company in Winston Salem, NC. It was not until my retirement in 2003 was I able to devote all of my creative energy to my passion for photography, and most recently videography. Combining my creative streak with my love for innovative marketing strategy has also allowed me to provide marketing consulting for several companies across the state. I currently work out of my home on the north end of the beach.
Business awards received when I had a "real job" include being named one of the Top 100 Marketers by Ad Age as well as one of my campaigns sited as a top ten campaign of the year by the New York Times.
My photography has been featured on the cover Our State magazine as well as Salt magazine locally. My work can also be seen on websites of numerous local businesses.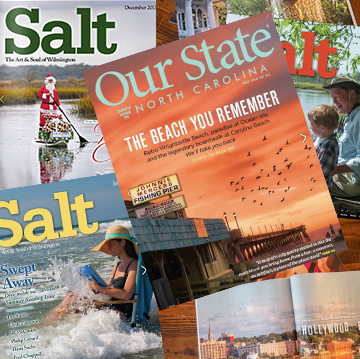 The most extensive sampling of my work can be found at Blue Moon Gift Shops and the Eclipse Artisan Boutique on Racine drive in Wilmington. NC. Many restaurants including South Beach Grill on the beach and Catch restaurant on Market Street also have my work on display.